Q: What is the "Negotiate" feature in linkr?
A: The "Negotiate" feature is an exciting addition to linkr, designed to revolutionize the way you approach influencer partnerships. It allows you to have more control and flexibility in tailoring your partnership terms to suit your brand's unique needs.
Q: Why does the "Negotiate" feature matter?
A: The "Negotiate" feature matters for several key reasons:
Tailored Partnership Terms: With this feature, you can customize partnership terms, ensuring they align perfectly with your brand's specific requirements. Whether you have unique expectations, goals, or conditions, "Negotiate" helps you achieve them.

Open Dialogue: It promotes open dialogue between you and the Influencers, creating a space for transparent communication. This ensures fair pricing, mutual understanding, and ultimately, a partnership that benefits both parties.
Q: How does the "Negotiate" feature empower brands?
A: The "Negotiate" feature empowers brands by giving them more control over influencer collaborations:
Fine-Tune Collaborations: You can fine-tune the terms, conditions, and expectations of your collaborations to match your brand's specific goals and needs. This feature ensures that the influencer partnerships are a perfect fit for your brand.
Q: Can I adjust a cooperation proposal received from an Influencer?
A: Yes, you have the flexibility to adjust a cooperation proposal that you receive from an Influencer (if the Influencer allows it while creating a proposal to you). This feature allows you to refine the terms and conditions to better suit your brand's specific requirements.
Q: How do I adjust a received cooperation proposal?
A: To adjust a cooperation proposal, follow these steps:
Access the Proposal: Begin by logging into your linkr account and navigating to the proposal you've received from the Influencer. Cooperations → Manage → New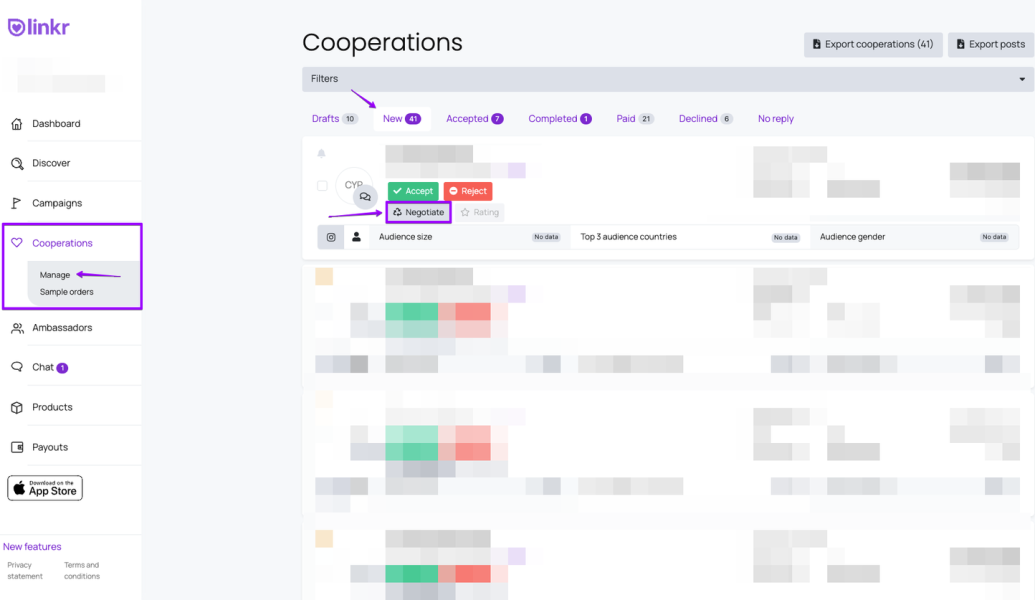 2. Review the Proposal: Carefully review the terms and conditions presented in the proposal. Identify the areas that you'd like to modify.
3. Make Adjustments: Click on the Negotiate button. You can make adjustments to the proposal by editing the terms, such as compensation, deliverables, timelines, or any other relevant details. Ensure that the updated terms align with your brand's goals and expectations.
4. Save Changes: After making the necessary adjustments, send the updated cooperation proposal.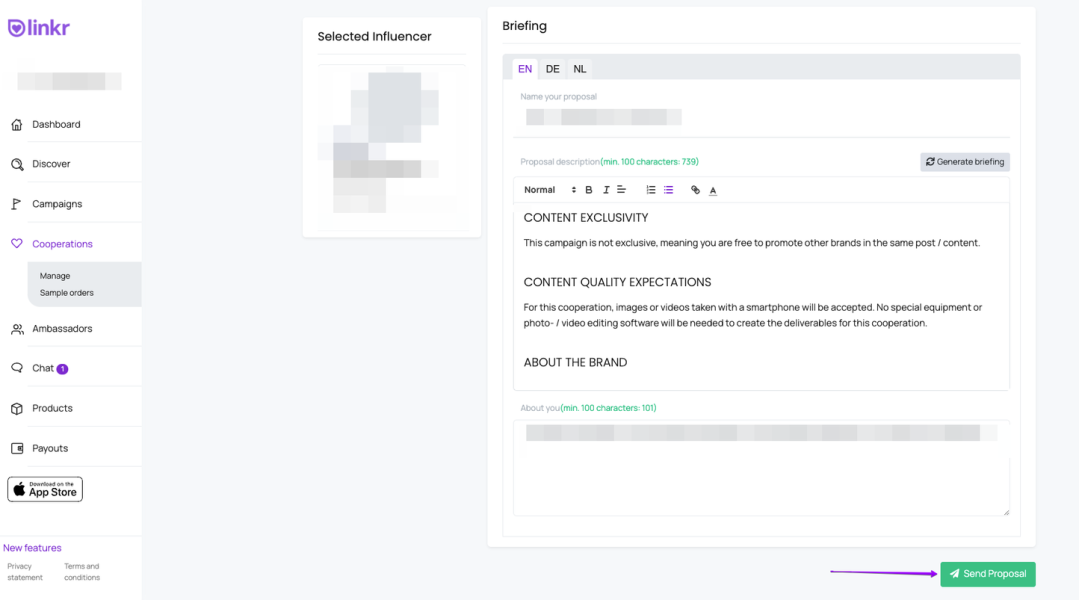 Q: Can I communicate the updates to the Influencer when resending the proposal?
A: Yes, you have the option to use chat message to the Influencer explaining the updates you've made to the proposal. This open communication helps ensure transparency and mutual understanding.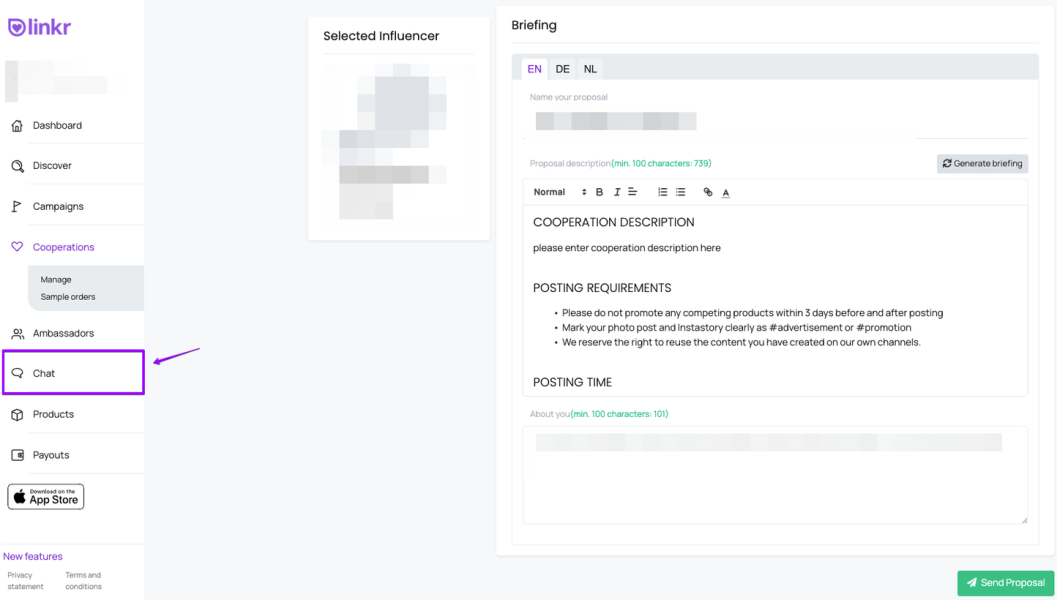 Q: What happens after I resend the adjusted proposal to the Influencer?
A: After you resend the adjusted proposal, the Influencer will receive the updated terms. They will have the opportunity to review the changes and either approve/reject the proposal or request further adjustments. This process allows for a collaborative and transparent negotiation between brands and Influencers to ensure that both parties are comfortable with the partnership terms.
Q: Is there a limit to the number of times I can adjust and resend a proposal?
A: Typically, there is no fixed limit to the number of times you can adjust and resend a proposal. However, it's a good practice to engage in effective communication with the Influencer to minimize unnecessary back-and-forth and expedite the approval process.
Q: Where do I manage whether I want to allow influencers to make counterproposals to me?
A: You can manage whether you want to allow influencers to make counterproposals to you while creating a campaign or an individual proposal for an influencer. During the campaign creation process, you'll typically find an option or setting that allows you to specify whether you are open to receiving counter proposals from influencers. Simply check or uncheck this option, depending on your preference, before finalizing your proposal. This setting gives you control over the negotiation process and the extent to which you are open to adjustments to the proposed terms.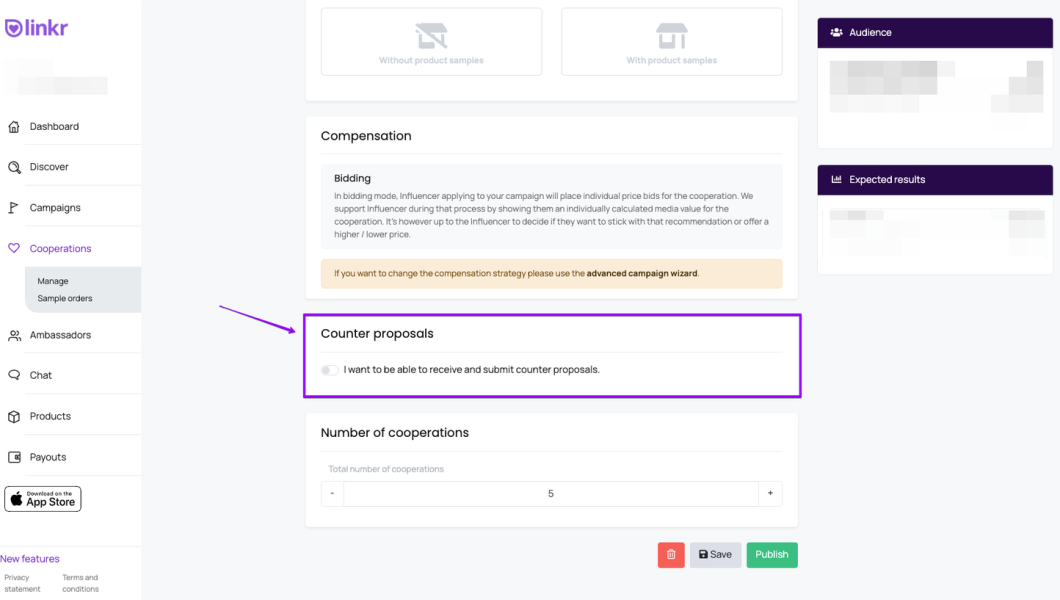 By following these steps, you can easily adjust and resend a cooperation proposal to an Influencer, promoting a collaborative and transparent partnership negotiation process.
If you have any further questions or need assistance with this feature, feel free to reach out to our for guidance. We're here to help!