There are 2 ways influencers can apply to work with you and your brand on linkr:
1. Campaign Application: This is when an influencer applies to participate in one of the campaigns you've published on linkr. By applying, the influencer has already accepted the terms and conditions you have set in your campaign briefing. You can decide if you would like to accept or decline the application.
2. Cooperation Request: This is an individual cooperation proposal from an influencer, outside of any other campaigns you might have running at the time. The terms and conditions are set by the influencer in their proposal and it is up to you to accept or reject the request under these terms.
Note: linkr also allows you as a brand to send individual proposals (cooperation requests) to influencers.
Both cooperation types are added to your "Cooperations" menu item, providing you with a central overview of all cooperations with influencers on linkr. Furthermore, you are able to check the social profiles of each influencer or even personally chat with each applicant to clarify any pending questions.
Let's have a quick look at the key elements of the "Cooperations" list:
You can use filters to narrow down the list of displayed cooperations - e.g. only show a specific influencer, or within a specific date range, only show campaigns or cooperations based in Germany or only show applications for the "summer sale campaign":

Check the social profiles of the influencer and have a look at key metrics such as audience size or average engagement on the most recent posts:

Click on the button "Details" to see more metrics of the influencer and to make some notes there. You can also find similar influencers there.

This lists the influencer compensation set for this cooperation. Compensation can be cash (e.g. $ x for a post, story, etc), free product samples (sample value automatically subtracted from required cash compensation) or a combination of the previously listed methods:

In case you have questions to a specific influencer or if there are further details to clarify, you can use the built-in chat:

Finally, based on all data at hand, you need to decide whether or not you'd like to accept or decline the cooperation request. Either way, the influencer will receive a notification, informing them about your choice. You will have the opportunity to customise the notification before it is being sent to the influencer: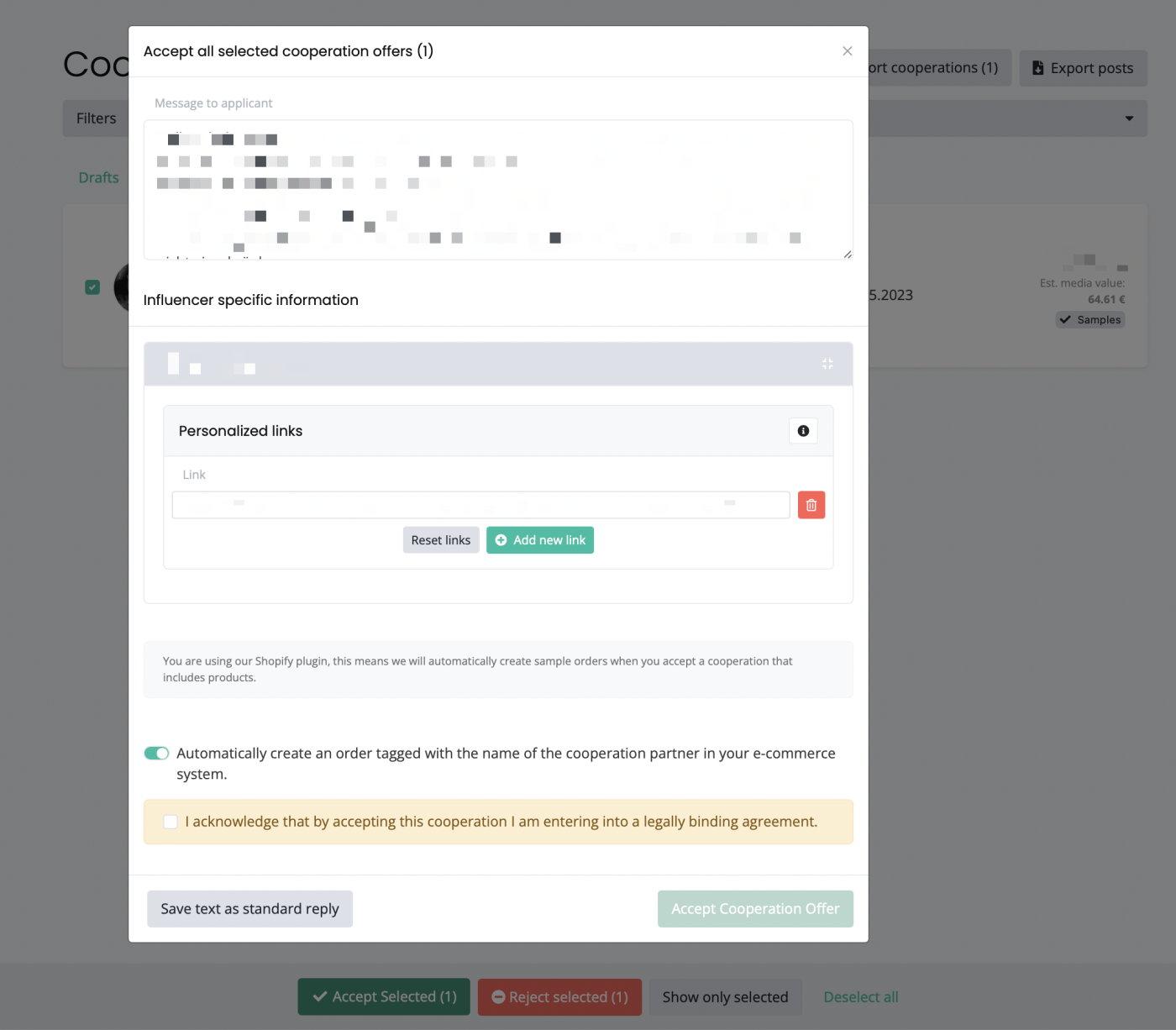 ---
Note on product samples:
If free product samples are part of the campaign, then the influencer will select their color, size, etc. of choice during the campaign application / request submission process. Also, influencers will leave their shipping address and email. Once you choose to accept the cooperation request, you will see the required shipping details on "Orders":
Info:
For Shopify and Shopware merchants that did connect their store, linkr will automatically push an order with all required shipping details to your store.