In one of our recent blog-posts on Shopify, we took a deep dive into how brands with small budgets but great products can get the most out of their influencer marketing cooperations with product sample seeding campaigns.
Based on the same pre-conditions, today, we want to look at another great way to work with micro influencers without breaking the bank: cooperations with sales commissions.
---
Get your expectations straight.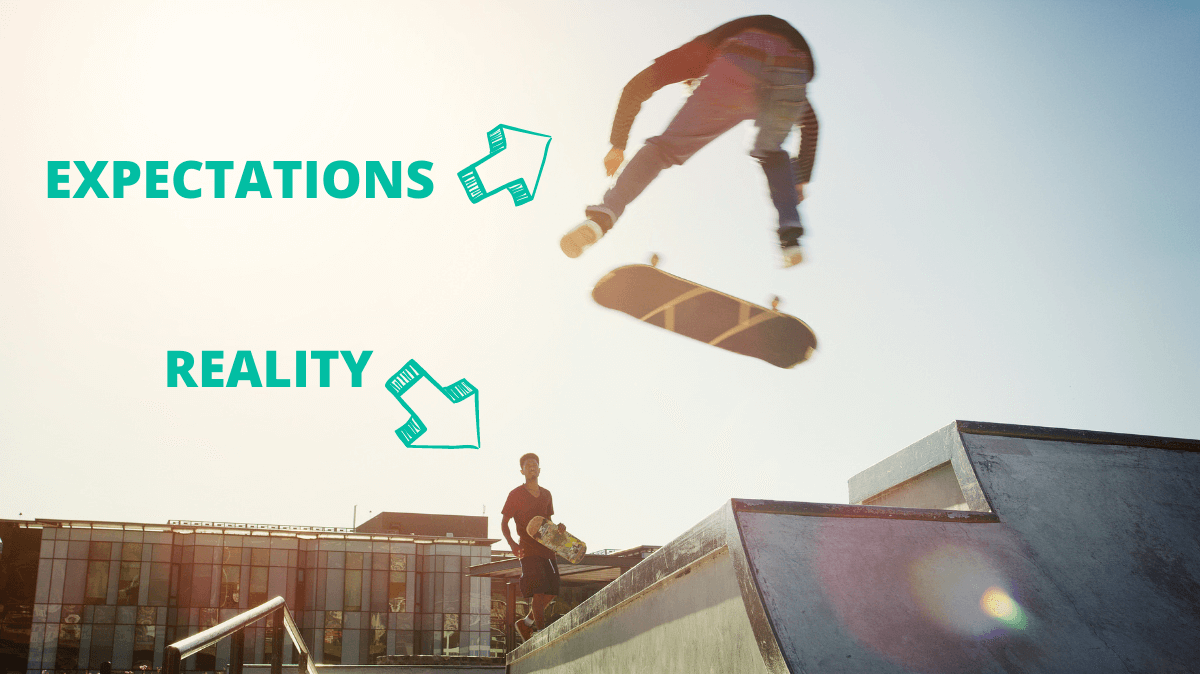 It's usually not a good idea to start anything with a list of what you shouldn't do. But we hope you don't mind us breaking that rule today, for the sake of getting everyone's expectations straight.
If you haven't established a brand yet, just launched your online-shop that - if you're honest to yourself - could use some polishing here and there, aren't yet 100% certain about the price point you've set for your products, have recently launched your brand's instagram profile, that has 3 posts and 14 followers, 2 of those being your proud parents - well, then it's probably a little too early to start working with influencers on sales commission campaigns.
As a matter of fact, it will be too early in general to expect any substantial uplift in sales from an influencer cooperation. Why?
Because if people are supposed to swipe their card and buy from you, you've got to build your brand first.
Earn their trust. Establish social proof by showing people on Instagram how other people are enjoying your products.
Good news is that influencer cooperations are a great way to get there.
Just not with sales focused campaigns. Product reviews, unboxings, challenges, etc. are the way to go.
---
Play fair.
If you're beyond what we've described above, then dive right in. But don't try to play people. Play fair. What do we mean with that?
We've seen it all too often. Brands selling products worth $15, offering a 5% commission on every sale. In return they're asking for 2 posts and a story on instagram, exclusivity, professionally produced imagery for which they demand the usage rights for their owned media channels, pre-approval loops for captions and not interested in working with anyone below 50,000 followers with at least 90% of those sitting in their target country. Not hard to spot the imbalance here, is it?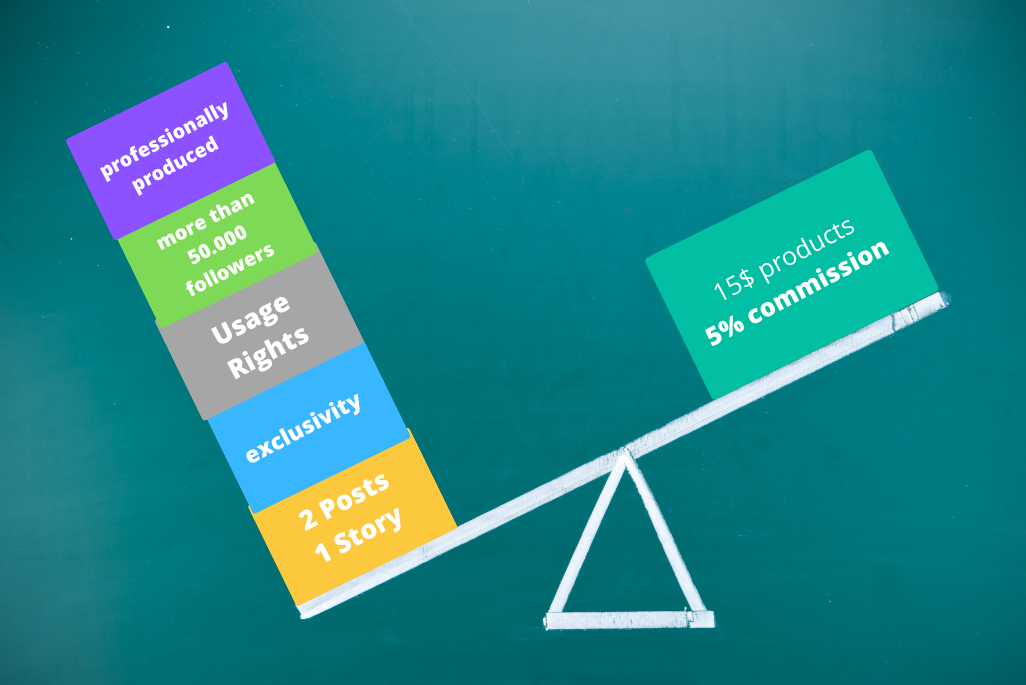 ---
So how does it work then?
Put yourself in the shoes of the influencers you're trying to work with. To begin with, they've got to create content. We all know that it takes skills and time to create great content.
Secondly, influencers are introducing - probably even recommending - your brand to their followers. So that gives you reach and increases awareness for your brand but also creates trust and social proof but doesn't necessarily mean people will storm your store and buy from you. They might. They might not. They might later.
If influencers only get x% on every sale, they might or might not be compensated for their work, the reach and social proof they've provided you with. Doesn't seem fair, does it?
A great - and usually perceived as fair - approach is to offer a smaller portion of the compensation as a fixed value and the remainder as a performance based compensation (i.e. sales commission).
This allows both you and the influencer to limit risk and feels like you're both making an effort in meeting half-way.
The linkr platform allows you to combine sales commissions with a variety of other compensations. Here's an example of how this could look like for the example given above.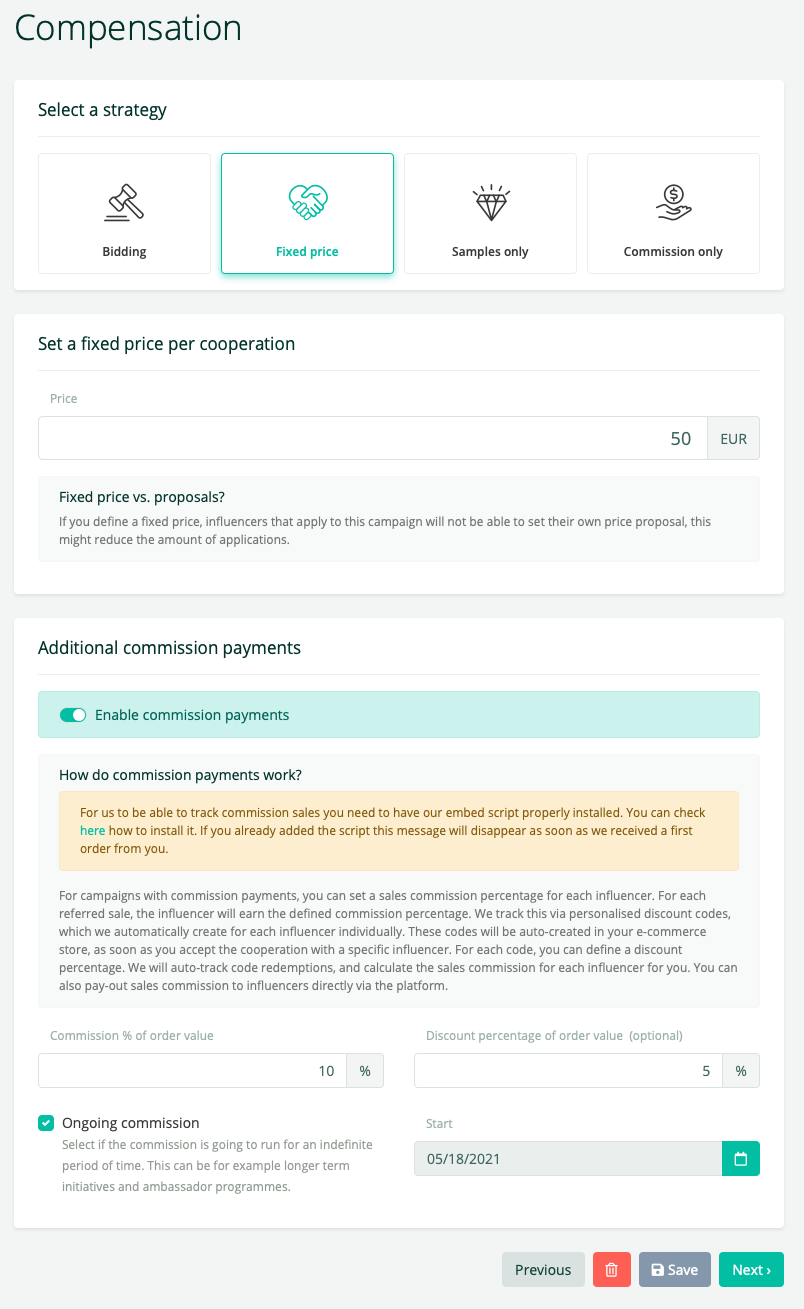 For each cooperation you're accepting with, linkr automatically creates a discount code that's communicated to the influencer. For Shopify stores, we even auto-create the discount code in your store backend.
Every time someone buys from your store with an influencer discount code, linkr automatically calculates the commission you've agreed with the influencer and allows you to conveniently pay out earnings after a 30 day rolling window.
linkr also informs influencers on sales made with their code.
---
Conclusion.
So what have we learned:
Don't start until you're ready. Sounds obvious - nonetheless a simple and great piece of advice. If you're not ready yet, you won't be anymore ready only because you're putting influencers in front of your band wagon.

Be fair. Make well balanced offers. Everything else will just feel like a rip-off attempt and make you look unprofessional, greedy or both.

Do not only look at sales. If you're not valuing reach, brand awareness, social proof and branded, repurposable content, you're not reaping all the benefits you can get out of each cooperation.

As always: Take your top performers to the next campaign, replace non-performers with new candidates and give the ones in between another shot.